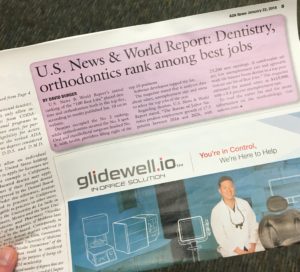 In case you missed this little blurb of news recently, we were excited to see the U.S. News Report's latest list of Best Jobs for 2018!   We saw great news for dental practitioners and healthcare workers of all types!  The report bases its rankings on many factors including job satisfaction (work-life balance), compensation, and job security.  And the good news?  The report lists "Dentist" as No. 2 overall and "Orthodontist" as No. 5!
So, why are we so excited to share this news with you?  Well, as it turns out, one of the awesome things about being an orthodontist is that we have a chance to meet lots of young people!  As our patients progress through elementary, middle, and high school, they often start to think about what kind of job or career they might like to have, and we hope that we can be one resource for them as they make this extremely exciting decision about the direction of their lives.
In case you're interested in dentistry or orthodontics, here are a few tips to consider:
Try to learn as much as you can about a day in the life of a dentist or orthodontist. Usually, our first experiences with these jobs come from being a patient in the office.  If you've been a patient in our office, you've probably started to get a good idea of the type of things an orthodontist does throughout the day, but you likely haven't seen behind the scenes yet!  Outside of the time that the orthodontist is with you at the chair, he or she has a lot of other jobs to do and hats to wear.  We are often found planning treatment, communicating with other dentists and specialists about cases, and doing the myriad jobs that come with owning and operating an office.  Feel free to ask questions or see if you can spend time shadowing!
Aim to maintain excellent grades. Even if you're only in high school, keeping your grades up will increase your chances of becoming a dentist or orthodontist.  The process begins with an undergraduate education, and you can focus now on getting into a good college with a great pre-dental program.  If you're already in college, grades become even more important as dental schools will use this data to help decide who will get a spot in their program.  In addition, you can study hard to prepare for the pre-dental entrance exam (DAT), another factor dental schools will use to evaluate your application.
Spend some time on extracurricular volunteer work or research. Dental schools love to see that you have interests outside of school too!  When it's time to apply, be sure to share your interests with them - especially if you've been involved in organized extracurricular programs like volunteer work.  Dental schools look for candidates who they believe will become dentists who are contributing members of their communities one day.  And doing research in a science field through your university shows that you are academically capable of more than simply taking tests - you are capable of giving back to the field by producing new information and knowledge!
There are many more ways you can learn about and prepare for a career in dentistry or orthodontics, and we are always happy to answer questions.  Even if you just want to know what it's like to do our job - we're happy to chat!  There are pros and cons as with every job, but overall, we think that a No. 5 spot on the Best Jobs lists is well-justified!  We feel so lucky to do what we do every day and share our passion with our amazing patients!
Keep smiling, friends! :)