March 19th, 2018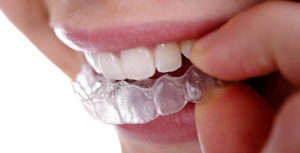 The popularity of at-home, do-it-yourself orthodontic treatment has increased dramatically in the past year, and we can imagine you might have lots of questions about this method of treatment!  You hear advertisements on TV describing how easy and inexpensive mail-order orthodontic treatment is.  (Saving you all those "pesky" visits to a dental professional's office... )  And you may also hear dentists and orthodontists warning against the risks of DIY orthodontics, but perhaps it isn't clear what the risks are?
So today, I'm going to break down a few of the unanswered questions based on my current understanding.  First of all, let's define what we're talking about.  What is DIY orthodontic treatment?  Thirty or forty years ago, DIY orthodontics may have consisted of a dentist telling Mom to save her money on braces and have her son or daughter hold a popsicle stick in their mouth while watching TV at night to correct a crossbite.  So DIY orthodontics isn't a new idea, but it has at least gotten a little more advanced!  In this case, I'm referring specifically to mail-order clear aligners.  These are marketed as invisable aligner treatment without the need to visit a doctor's office.  You fill out a form online and pay a nominal fee to request some materials from the company.  They send you a kit that you use to take an impression of your teeth at home.  You send the impressions back, and they propose a treatment plan.  You then have the option to view a video animation of how they expect your teeth to move and pay for the aligners if you want to.  They are reportedly reviewed by a licensed dental professional, but you will monitor your own treatment at home.  I don't have any first-hand experience with these companies, but I'm guessing (and hoping) that they remain available for questions throughout your treatment.
So, what are the advantages that they advertise?
Convenience - The company advertises that you can skip trips to the orthodontist's office.  Is this true?  Perhaps.  If you take an excellent impression of your teeth on your own and your treatment goes seemlessly, you may avoid trips to an office!  Here are a couple things to keep in mind.  Taking impressions is something that does not have a 100% success rate even for orthodontic techs and doctors who have done it many times before.  If you end up needing help or a digital scan (rather than an impression), you may end up visiting an office or a shop or kiosk to have this part of the work performed.  Also, keep in mind that during clear aligner treatment in most orthodontic offices, you only need to visit about every 8 weeks and likely for no longer than half an hour or so.
Cost - The company also advertises that you'll save lots of money compared to traditional orthodontic treatment.  Is this true?  Perhaps.  You are essentially eliminating a middle-man.  But is this a good choice?  Eliminating the middle-man when you buy airline tickets or books online is great because you get the same product either way.  With orthodontic treatment, when you eliminate the middle-man, you also eliminate a person who can give you customized personalized advice, guidance, and help getting the results you want.  You may save money, but it's hard to guess whether you'll get the same value out of your treatment.  There are likely cases where equal success is achieved, but more often than not, aligner treatment does not go precisely as planned, and the in-person help of a professional can help get you back on track.
And what are the disadvantages we've been talking about?
Limited options - Companies such as the one I'm referring to advertise that they will use aligners to correct your "smile."  This does not necessarily include making improvements to the way your teeth bite together.  Orthodontists are trained to address all aspects of treatment.  In some cases, aligning your teeth could put them in a position where they will be subject to problems later.  Which leads me to my next point...
Worsening of dental health - Before beginning orthodontic treatment, an orthodontist should perform an exam and/or consult with your general dentist to be sure that your teeth and jawbones are healthy enough for tooth movement.  If they are not, moving your teeth could lead to tooth loss, recession (gum problems), or mobility of teeth.  In addition, orthodontists monitor your treatment throughout the process to be sure that your teeth are moving to a healthy position.  If they aren't biting properly, adjustments need to be made, and sometimes treatment plans need to be revised in order to prevent bite problems.
Cost - Yes, I mentioned cost as both an advantage AND a disadvantage.  It's great if your treatment goes smoothly - you will probably save money!  However, if you complete treatment and aren't satisfied with the results, as has been the case for many patients, you may find yourself in an orthodontist's office anyways, looking for another treatment option and facing the possibility of paying for treatment all over again.
So, should you try it?  We are obviously fans of treatment that is supervised by an orthodontist, but most importantly, we just want you to be aware of the risks and benefits before you make the decision to try this type of treatment!  And if you decide against it or if you've already tried it and you're not satisfied with the results, we are still here for you!
Keep smiling, friends!